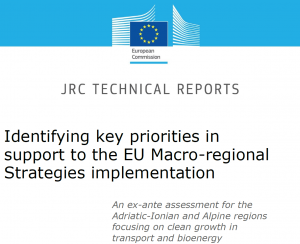 Joint Research Centre (JRC) Technical Reports aim to take stock of a topic to raise awareness or influence the orientation of community policy from scientific works.
In March 2019, Marilena Muntean (Directorate for Energy, Transport and Climate, Air and Climate Unit) coordinated and published the report entitled 'Identifying key priorities in support to the EU Macro-regional Strategies implementation – An ex-ante assessment for the Adriatic-Ionian and Alpine regions focusing on clean growth in transport and bioenergy', for which Emmanuel Garbolino (CRC) was invited to contribute to the chapter dealing with the perspective of feedstock availability and sustainability, in a context of climate change.
According to the duration of the exploitation of the collective installations based on the wood-energy (30 years on average), he could insist on the interest of developing a prospective method allowing the study of the future of the resource (evolution of ecosystem services) and energy demand (urban dynamics) in order to support decisions for the development of the wood energy supply chain in the Mediterranean and Alpine areas towards 2050.
Read also : Anticipating Climate Change Effect on Biomass Productivity and Vegetation Structure of Mediterranean Forests to Promote the Sustainability of the Wood Energy Supply Chain.
Picture : Technical report of the European Commission.