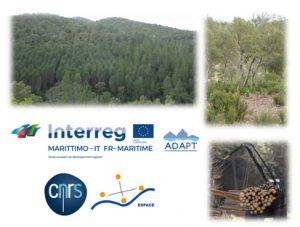 For several years, Emmanuel Garbolino, Assistant Professor at CRC, has developed numerical methods applied to study the evolution of ecosystem services in order to study the emergence of risk situations or new opportunities, taking into account global changes. In this context, the production of woody biomass and its medium-term evolution are currently an issue for the development of the wood energy sector.
In the frame of the European project ADAPT which focuses on the hydrological risks related to climate change and land use management, CRC is associated with UMR 7300 ESPACE to study the potential of biomass and its energy use in pilot sites of the department of Var. The objective is to evaluate the sustainability, or even the development, of the ecosystem services involved in flood prevention in the Mediterranean area while ensuring a contribution of biomass during forest management actions. This evaluation is part of the development of models and tools in prospective. It is based on the processing and analysis of field data using specifically developed algorithms that provide insights into the evolutionary trajectories of the ecosystems and associated ecosystem services. These results provide information to stakeholders to influence their choice regarding environmental management and the development of the wood energy sector.
Coordinator: Emmanuel Garbolino.
Picture : pilot sites in Collobrières (83043) and Pradet (83220) municipalities.