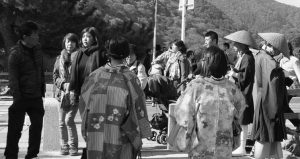 December 8, Yoann Moreau held a conference entitled "
Rural Exodus as a Long Term and Global Disastering Phenomenon. A mesological perspective on Kaso (過疎 "depopulation") 
at Nanzan University, Nagoya (Japan)
.
It was given in the international meeting
Displacements and Potentials
organized by the Anthropology of Japan in Japan (
AJJ
) and
Asian Ethnology
Journal.
Abstract : a mesological perspective on Kaso (過疎 "depopulation") consist in considering rural exodus as part of a global process that disrupt many of the constitutive equilibriums of human-human, human-nature and nature-nature relations. To put it in simple words, Kaso is a global and long term phenomenon that deeply endangered the milieu (Berque 2000). It means that the semiotic structure of human and nature as a living whole is actually collapsing. Through two case studies, in Yagisawa (Izu-shi, Shizuoka-ken, Japan) and Salvação (Amazonia, est. Pará, Brazil), I attempt to provide a new perspective on rural exodus as a long term and global disastering phenomenon.